---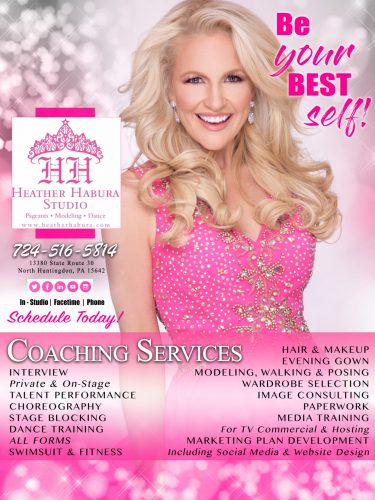 Pageant Coaching
Modeling Instruction
Dance Training
and more .  .  .  .
Commercials
Talk Shows
Event Host
and more .  .  .  .
My story
About Heather
Heather is passionate about her work as a TV host and actress. But most importantly, she loves to help people-especially those who have goals and dreams in their heart. Her pride and joy is her studio that she opened right outside of Pittsburgh, Pennsylvania. She specializes in private training for Modeling, Dance, and Pageant Contestants. She also provides training in etiquette, self-esteem development, interviewing, public speaking, and helping her students fulfill their dreams.
Testimonials
"Heather Habura has served the Miss Clayland Scholarship Program with dedication, pride, and respect. She has served as Miss Clayland, emcee, and choreographer. She continues to offer support to our representatives and is more than willing to assist our contestants as they prepare for competition."
Martha CampbellExecutive Director – Miss Clayland Scholarship Program
"Miss Heather is a great dance teacher. I look forward to going to her classes. We learn new dances and techniques to become better dancers. She always has a smile and positive attitude. She motivates us to always do our best. She teaches us to respect each other because we are a team!"
Erica KnoppDance and Modeling Student
​"Heather can do it all: talent, modeling, pageant prep. Heather helped my daughter prepare her wardrobe, fun-fashion walk, and was the most positive "cheerleader" as we prepared for Nationals. Heather's skills for talent helped my daughter express her inner beauty, and I was completely impressed by her professionalism. She had her dance routine ready, music perfectly edited and done, and wardrobe ideas all sketched out by our first session. Wow – you won't find this type of class and organization anywhere else!"
Karime LeonardParent
"Heather has been signed with the Talent Group for several years now. Not only is she talented and conscientious, she is an extremely nice person and a joy to represent."
Richard KohnPartner, Talent Group
"Heather is a wonderful talent. She is energetic and personable as well as having a strong on-camera presence. She works very well with other hosts or can carry a segment alone. Always prepared and professional, Heather is someone I would highly recommend for your next television or video project!"
Dean MariniGeneral Manager, Image Video
Need an experienced talent for your next Media project?
Looking for a Pageant Coach, Modeling Teacher, Television Hosting/Acting Teacher, Interview/Public Speaking Coach, Dance/Fitness Instructor?
Look no further, my studio serves the entire United States.
Corporate Headquarters in Akron, Ohio